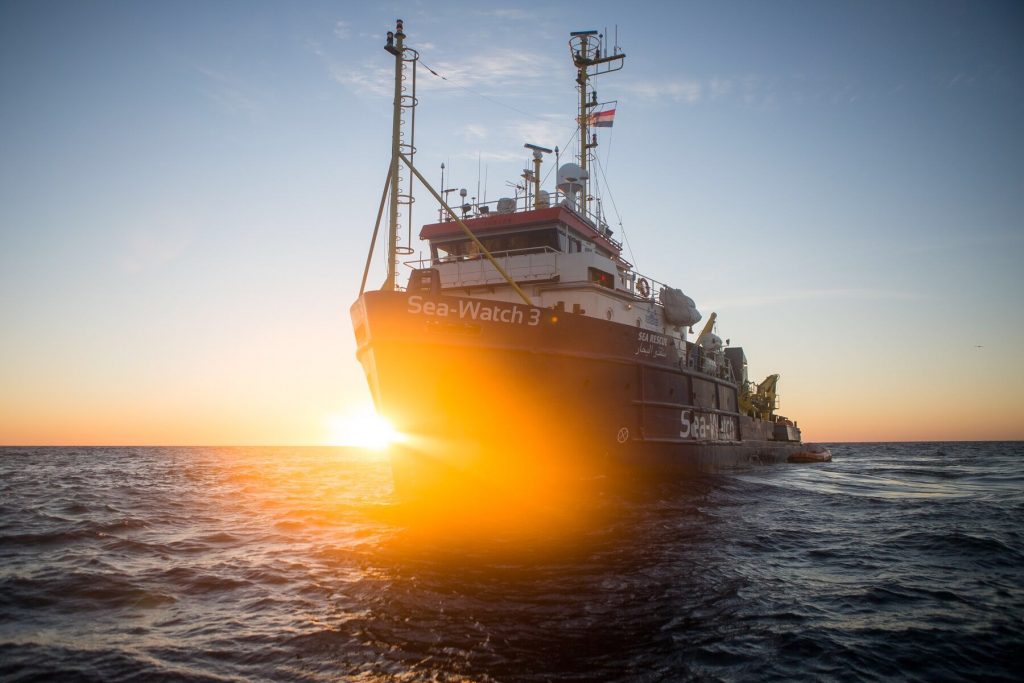 The migrant rescue ship Sea-Watch 3 has a very strict rule — no racists on board. Speaking to leading Italian daily La Repubblica last year, the ship's German captain Carola Rackete had no kind words for radical populist Matteo Salvini, calling him a dangerous man.
This was days after her release from house arrest after forcing her ship into Lampedusa port on June 29 2019, carrying 40 African migrants rescued from near-certain death in the Mediterranean Sea.
"I'm worried by the tone Salvini uses, by the way he expresses his ideas that breach human rights. He is dangerous, but all of the radical and nationalist right is like that, from the English UKIP to the German AfD," the 31-year-old told the paper.
As interior minister for just over a year until his ouster last September, Salvini led a virulent crackdown on migration. He introduced tough new laws and attempted to bring charges against Médecins Sans Frontières (MSF) and SOS Méditerranée, for the high crime of saving migrants at sea from drowning.
Salvini is Italy's caricature of a populist leader — a Tesco Value Donald Trump, battling furiously to maintain relevance after his ouster from government, and prevent his Northern League party from bleeding support to the even further right-wing Brothers of Italy. His penchant for bigoted bombast is legendary; whether he is calling Romani women dirty gypsies, derailing attempts to drive racism out of Italian football, or mocking the victims of that racism while downplaying their abuse.
It came as no surprise when, in the face of the new coronavirus (Covid-19) pandemic, Salvini (among various other leaders of the European right-wing) rushed to politicise the outbreak, attacking prime minister Guiseppe Conte's government for not defending the country's borders.
On 21 February, Salvini suggested closing borders to migrants, ostensibly to protect Italians. A few days later, even though none of Italy's Covid-19 cases had been linked to Africa, he held a press conference in Genoa. There, he cited the docking of the Ocean Viking rescue ship in Sicily with 276 African migrants aboard to claim that Italy needed "armour-plated" borders, and called on Conte to resign if he wasn't able to defend Italians.
"The government has underestimated the coronavirus," he railed. "Allowing the migrants to land from Africa, where the presence of the virus was confirmed, is irresponsible." An audacious statement by any standards, considering that the confirmed presence he was speaking of at the time was Africa's first and only Covid-19 case, in Egypt.
The rescued migrants were placed in isolation for two weeks to test for coronavirus, while the crew were confined to their ship. The Ocean Viking was eventually released and permitted to sail, but rescue operations in the Mediterranean remain severely hampered by similar actions.
Far too many migrants have died at sea because of a lack of will to save them among European nations, led by Italy. Nevertheless, rescued migrants have been disembarking in Italy for many years, but this has not led to any major outbreaks of disease among Italians.
The 2014 Ebola epidemic led to flight shutdowns, visa bans and quarantine regimes that affected thousands of travellers from the West African countries at the heart of the outbreak. The region was often painted as a weak link in the global health system, and many airlines cut their flights to Guinea, Liberia, and Sierra Leone.
In a dramatic shift in fortunes, today's coronavirus crisis is leading to similar restrictions for many Western visitors to Africa. In nearly all of the first dozen African countries where cases of Covid-19 were confirmed, the cases were imported by travellers from Italy, France, Germany or other European countries.
One group of Italian tourists even tried to escape coronavirus confinement in Mauritania but were caught and sent home. African countries, whose citizens often have to prove their health status to even get a visa for travel to Europe, have moved swiftly to control arrivals from European countries.
The irony of European migrants being a large part of the early spread of Covid-19 on the African continent will be lost on unrepentant bigots like Salvini, for whom the grimy asylum seeker spreading diseases to an unsuspecting and innocent populace remains the go-to populist bogeyman.
However, Italy's is not the only example of racist rhetoric leading to immigrants being unfairly blamed for the outbreak of disease. As has been widely documented, the origin of the Covid-19 outbreak in Wuhan has inflamed anti-Chinese racism around the world. But it may not stop there.
When right-wing politicians come under public pressure for their failures — Donald Trump, for instance, fired the US government's entire pandemic response team in 2018 — they have inevitably attempted to shift blame elsewhere. They're taking the opportunity to settle old political scores, using the cover of a public health emergency to implement long-coveted policies.
Citing the threat of coronavirus to the American public, the Trump administration announced it would begin deporting asylum seekers who cross US borders to their home countries and would stop migrant processing at ports of entry.
In Hungary, prime minister Viktor Orban has used the coronavirus outbreak as an excuse to abolish the right to asylum. "Most of the illegal migrants are arriving from territories like Iran, which is also a focal point of the coronavirus," said the communications director of Orban's political party in a Facebook video. "We cannot risk the security of the Hungarian people, so we continue to say no to immigration and protect the Hungarian borders."
In an unprecedented move, the Italian government has declared its own seaports unsafe due to the Covid-19 outbreak in order to block the rescue ship Alan Kurdi, and won't authorise the landing of migrant rescue boats until at least the end of July. The decree adds that "rescued people must be guaranteed an absence of any threat to their lives", and concludes that at this time Italy's government cannot guarantee the security of migrants' lives.
Italy's mid-2019 tussle with the Sea-Watch 3 is a textbook case of politics in the age of Matteo Salvini. For weeks, he railed at the boat's captain; and when a judge proved him wrong, he challenged her at the ballot box. While he is no longer a central figure in migrant policy, the Salvini effect lingers on. The Italian government's latest move is just one of many examples of politicians taking advantage of a global pandemic to scapegoat vulnerable groups, particularly asylum-seeking migrants.
In just a few short months, the Covid-19 pandemic has reached devastating proportions, touching nearly every country and territory around the world. Restrictions on movement or border closures must not compromise the right to seek protection and asylum.
Solidarity is what the world needs to fight the virus, World Health Organisation boss Tedros Adhanom Ghebreyesus told the Munich Security Conference back in February.
"The greatest enemy we face is not the virus itself; it's the stigma that turns us against each other," he said. "We must stop stigma and hate!" That remains as true today — with the Covid-19 death toll approaching 90,000 — as it was back then.
And when in doubt, look to the German ship captain — she knows what's at stake.