Mudiwa Mundawarara, Rasta Rasivhenge and Precious Pazani spoke to NBO Magazine about how they got their start, and what makes a good match official.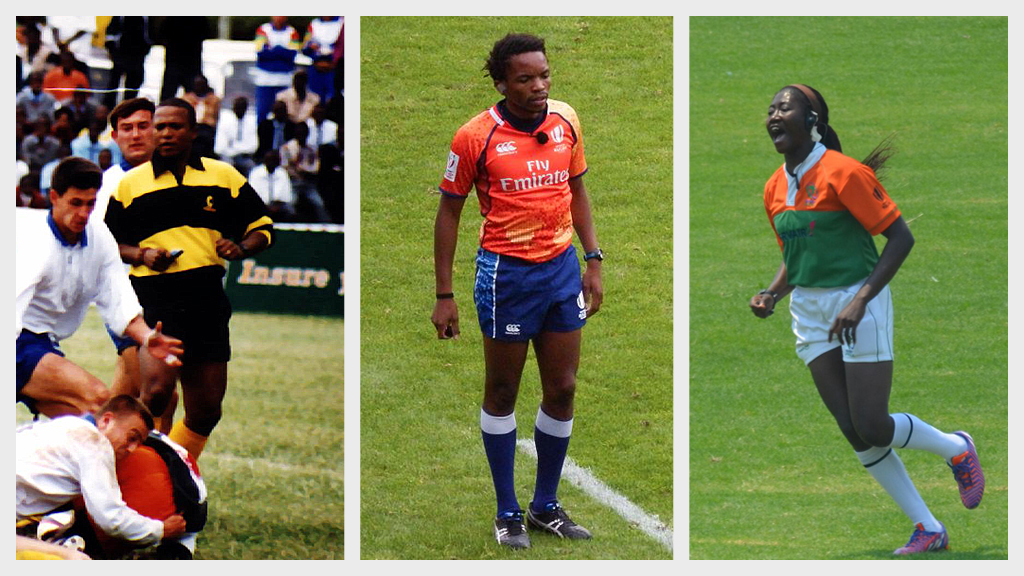 Officiating any sporting contest is often a thankless task; even moreso when faced with the limited finances and support that characterise many sporting disciplines across the African continent and the world at large.
Rugby referees are greatly under-appreciated, and as the story of the game is told, match officials are often overshadowed by rock-star players and coaches. Often with little more in their pockets than a coin, a whistle and a couple of cards, refs take their passion and use it to contribute to the development of the sport they love.
As rugby grows and spreads across the African continent, more resources are slowly being pushed into the recruitment and training of match officials, encouraging more youngsters, former players, and enthusiasts to join the ranks of the men and women taking charge of what has become a global game.
To find out what makes a referee tick, Joe Ruzvidzo spoke to three Southern African referees about their beginnings, their motivations and what they think makes a good match official.
The Father: Mudiwa Mundawarara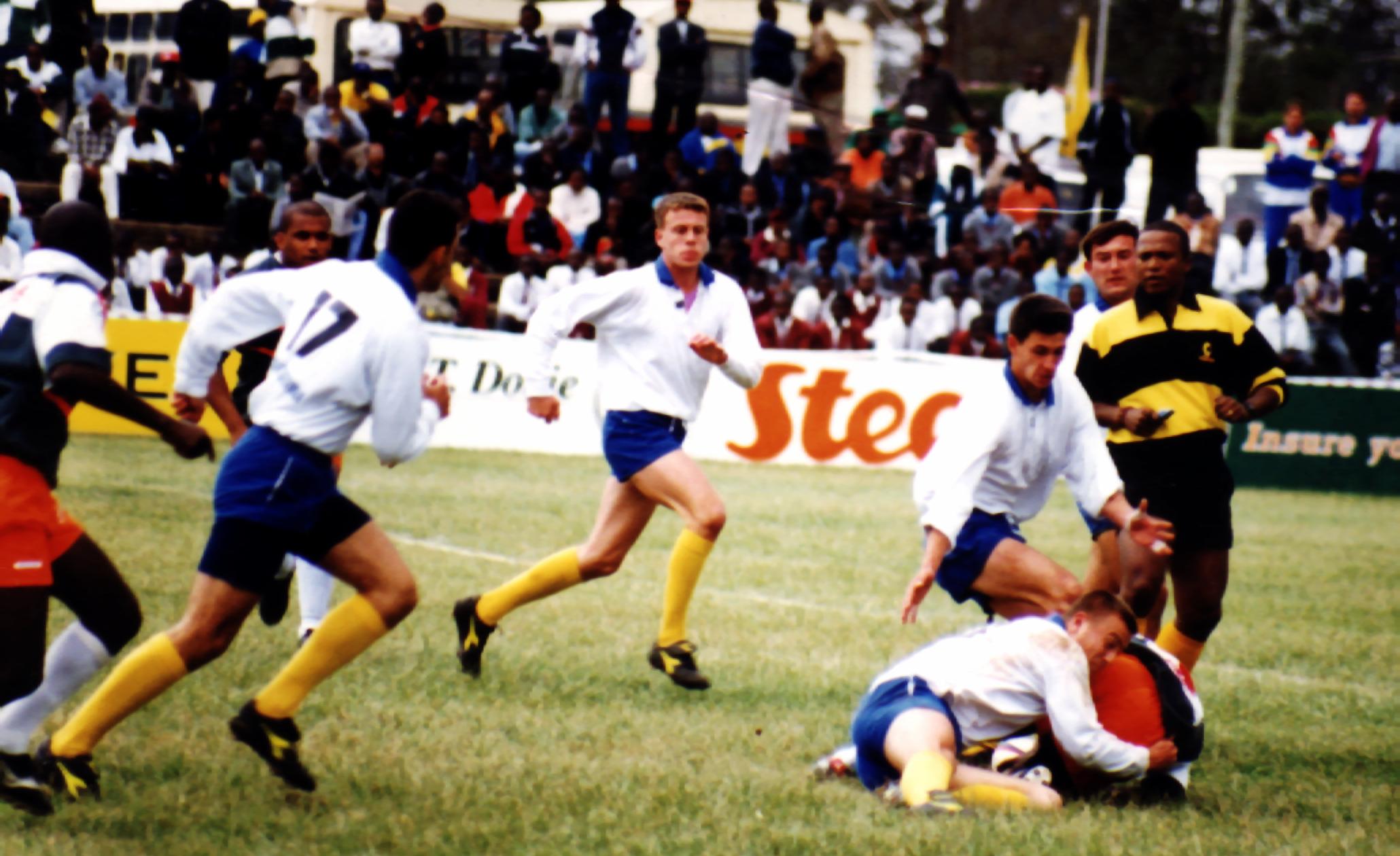 Many people familiar with rugby in Zimbabwe will know Mudiwa Mundawarara, the veteran referee who began his career in 1990. He has been a regular on the African rugby scene ever since, having handled international matches until 2005.
Mudiwa has also performed the roles of match commissioner and referee manager, both for CAR (now Rugby Africa) and IRB (now World Rugby). He has lately been travelling the continent as a citing commissioner for the Rugby Africa Gold Cup and the Africa Cup 7s.
Asked why he turned to refereeing, Mudiwa calls it a fun and incredibly challenging experience both on and off the field.
"I always say that reffing is maybe 80% management; a ref has to manage thirty people and sometimes one or two on the bench. We have seen quiet and shy boys and girls come to us, and watched them blossom into confident men and women."
While he hasn't taken up his own whistle lately, Mudiwa still remembers his first full-on fist-fight, in a Harare match between Old Edwardians and Enterprise. It was a one-sided encounter, and the Edwardians players (the 2nd XV of former giants Old Hararians) began show-boating.
"A huge fist-fight broke out and I, being young and inexperienced as a referee, jumped into the middle of it, trying to pull players apart. Just as one of these angry players was about to punch me, somebody grabbed me by the scruff of my jersey and pulled me out – Bruce Hobson. He has never let me forget his claim that he saved my life that day!"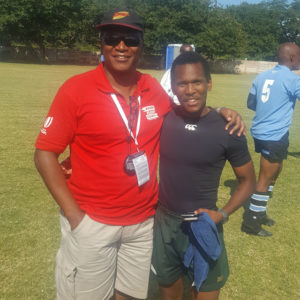 Although he's had a long and illustrious career of his own, Mudiwa's proudest moment was actually watching his son Julian handle his first league fixture.
And at just 17 years of age, Julian Mundawarara managed to send someone off!
"I was petrified for him," claims Mudiwa, who had a colleague on standby ready to run on the field and take over. "Julian was completely firm and unshaken in his decision, and the player didn't question the sending off."
An accredited Educator of match officials for nearly ten years, Mudiwa is unequivocal about the qualities and competencies a ref needs to rise to the top of their game.
"Thorough knowledge of the Laws, obviously, and an ability to be firm but empathetic. A referee needs to be able to engage with the players, and convince them that an orderly and safe game is in everybody's interests. A sense of humour also helps!"
A calming presence on Zimbabwean and African fields for over 28 years, Mudiwa has been passing on his knowledge and experience to the next generation of rugby referees, including his own son.
One of his most important lessons: "You have to be able to laugh at yourself in this business!"
The Flyer: Rasta Rasivhenge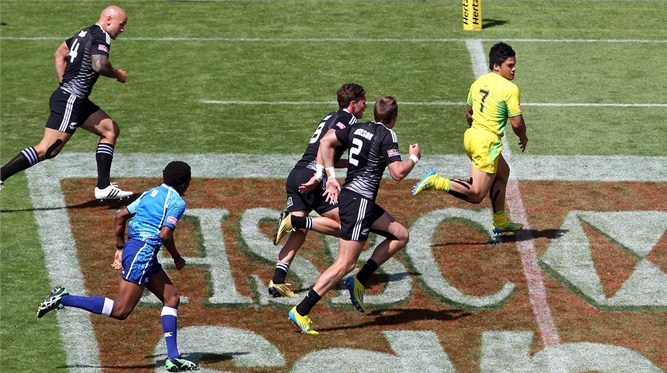 One of the most recognizable figures in international rugby is Rasta Rasivhenge, who can be seen plying his trade in Test, sevens, and club matches around the world. At just 32 years of age, the well-respected South African is also one of the fastest referees on the international rugby circuit.
Witnessing the casual confidence with which he handles matches, some as big as the Olympic Games gold medal match, you wouldn't imagine that Rasta's career began as a fluke. The way he tells it, he was watching one of his mates playing a college game, and his friend was "giving the ref a bit of stick."
Being a genuinely nice guy, Rasta went over to console the referee after the game. He was promptly invited to come down the following week to try his own hand at refereeing.
His first competitive fixture was a club game, and Rasta laughs at the memory.
"It was probably Wanderers against Pirates or something – it was very funny because as a scrumhalf, I kept wanting to put the ball into the scrum!"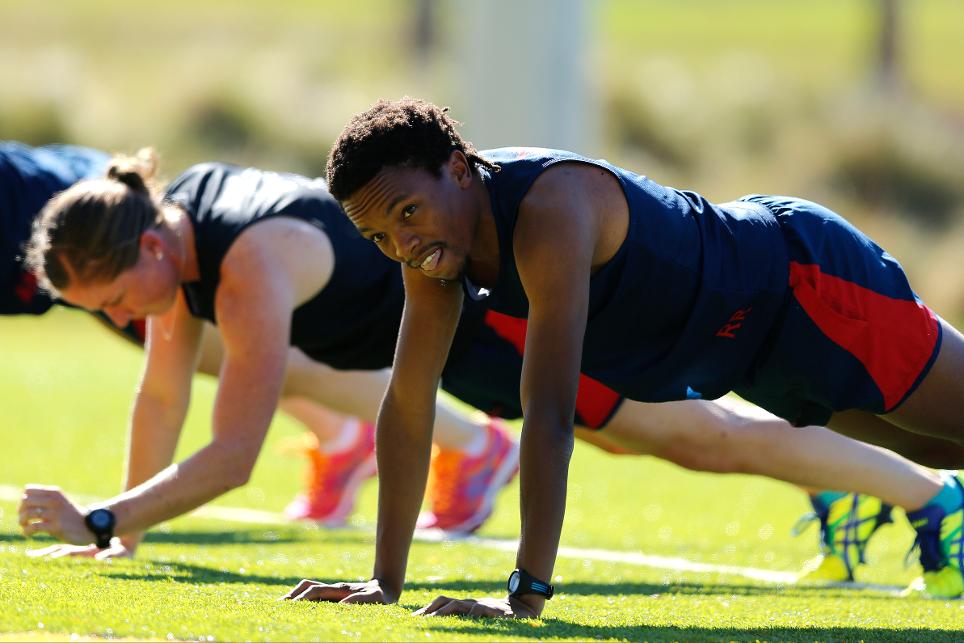 Besides fitness (for which Rasta is legendary), he believes a ref also has to have an understanding of the game, including all the Laws and technicalities. You also need to be passionate, and accept criticism.
He anticipates continuing as a referee for "maybe another 10, 15 years" barring any injuries, and would encourage any youngsters to consider taking up the whistle.
"There's lots of opportunity, including meeting new people. There are so many experiences, and the chance to turn it into a full-time job."
Named the World Rugby Referee of the Year in 2016 (alongside Spain's Alhambra Nievas), Rasta Rasivhenge is sure to grace the world's rugby fields for a long time.
As for his government name?
"It's Rasta."
The Future: Precious Pazani
If you met Precious Pazani at Harare Sports Club, you would be wrong to think she was just there for a drink and a laugh. At 28 years of age, Precious is a Harare native who has been a rugby referee since 2014.
With a background in basketball, Precious got her start after being asked to come along and learn how to play rugby sevens. It was there she showed an interest in more than just the playing aspects of the game.
In her own words, she wanted to be a ref because she saw the guys doing it and decided she could do it too. With encouragement from (now Zimbabwe Women's Sevens coach) Abigail Kawonza, she learnt the ropes – but the process wasn't easy.
"You need to have done your online laws and Rugby Ready (World Rugby's preparation course); attend our weekly Monday meetings; write the laws exam and also do the Bleep Test (a standard fitness test). From there you get games, where you are shadowed until you are capable of officiating on your own."
Although she has figured out the pressures of refereeing and is enjoying herself, her first game did not go according to plan.
"It was a sevens fixture between Old Georgians and Old Hararians. I started it without even blowing the whistle; I just told him to go ahead because I didn't understand what he was waiting for!"
That game ended well, but Precious wasn't too pleased with the pushing and shoving.
While she is now a regular feature on the Zimbabwe rugby circuit, it has not been easy. Some male players give her the deserved respect as a ref, but there is always a bit of grumbling. "At the back of their minds, they may still think that I may not know much about officiating, and they want to challenge and test me whenever they can."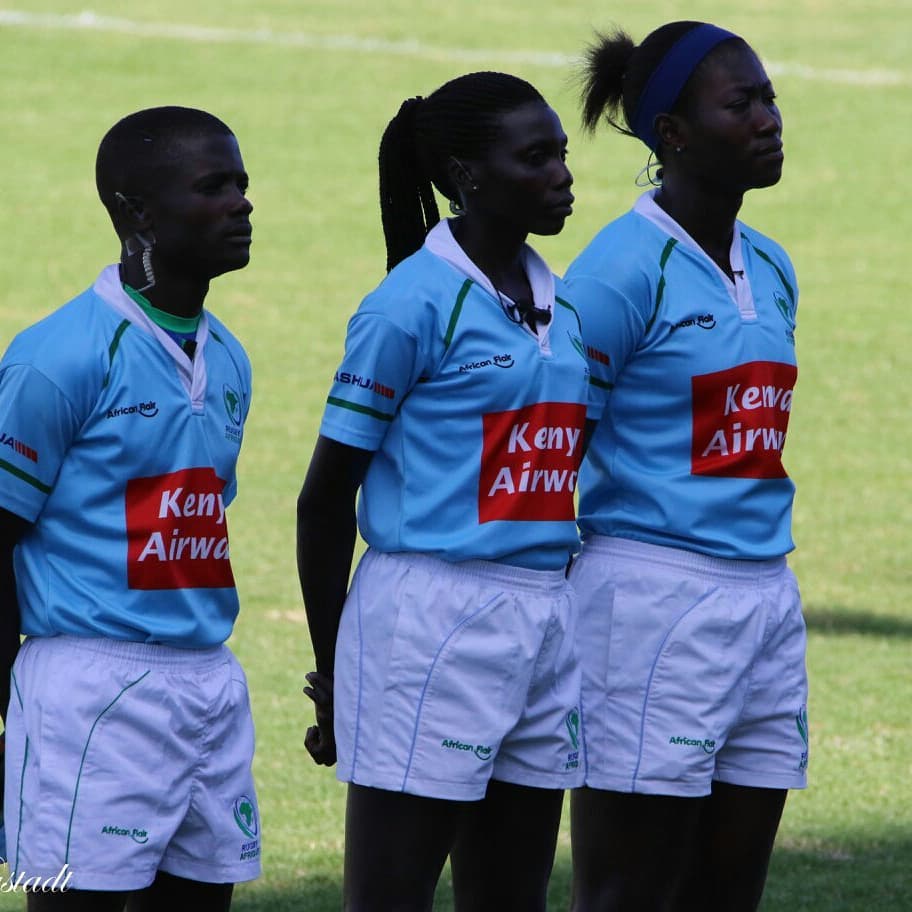 Her proudest moment was being part of the referees' group for the Women's Africa Cup tournament, which was televised across the continent. It also helped to cement the support she receives from her family. "My mum is cool with it. She came to watch me officiate the Africa Cup games."
Precious clearly enjoyed the pressure of the big stage: "I think I needed to be calm. Players sometimes do things that could have made me lose it, and they speak in all sorts of languages."
She has since gone on to officiate in Rugby Africa's flagship tournament, the Gold Cup, working the touchline in games featuring such continental heavyweights as Namibia and Kenya.
For a young woman in Zimbabwe, being a referee requires confidence and hard work. You also need to be fit: "And speed doesn't hurt!"
"Some people still get shocked that a woman referees rugby, but to those in the circles, they've gotten used to it."
As rugby grows and spreads across Africa, Precious Pazani will surely be one of its brightest stars.
This article first appeared on NBO Magazine. View the original here.